The Prize Celebrates 25th Anniversary With Winner of Winners Award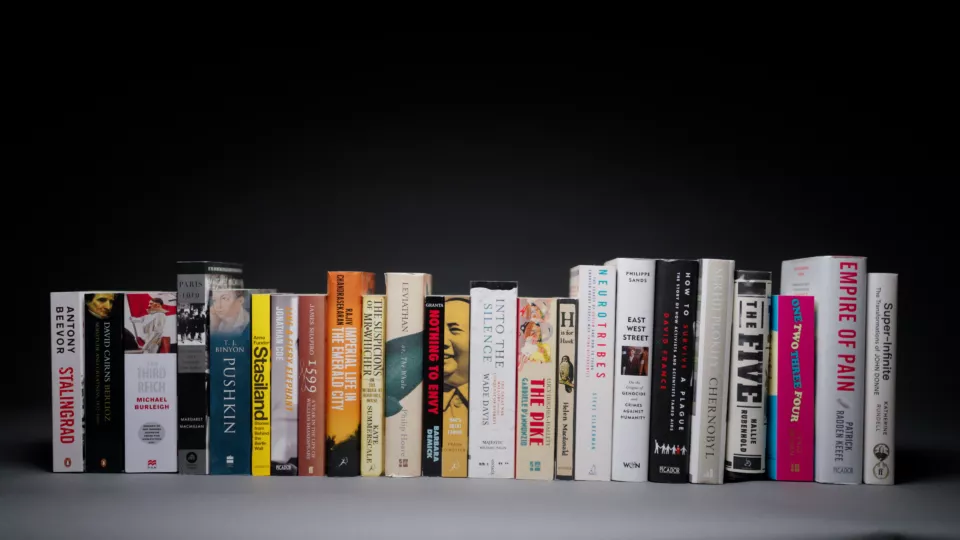 We are set to celebrate our 25th anniversary by holding a Winner of Winners Award to recognise the outstanding work of the previous 24 prizewinners. This special one-off award will crown the best work of non-fiction from the last 25 years of the prize.
The judges of the Winner of Winners Award are: New Statesman editor-in-chief, Jason Cowley (chair); academic, critic and broadcaster, Shahidha Bari; journalist, author and academic, Sarah Churchwell; and biographer and critic Frances Wilson.
Together they will select a shortlist from the 24 previous winners of the prize (announced on 9 March), before choosing an overall winner. The winner will be announced on 27 April at an event held at the National Museum of Scotland in Edinburgh.
The anniversary will also be marked by a one-off documentary – All The Best Stories Are True – which explores the very best in non-fiction writing over the past 25 years. From nail-biting moments to life changing stories, the documentary uncovers how the prize started out as the non-fiction rival to the Booker, and what the next 25 years hold for readers and writers in a world now steeped in 'fake news'. It will be available to watch on the Baillie Gifford Prize YouTube this February.
In addition to this, Waterstones will be celebrating the 25th anniversary with displays of all 24 previous winners, paying tribute to the Baillie Gifford Prize's history and influence as the biggest UK-based non-fiction book prize.
The 24 books in contention are (by year of win):
1999
Antony Beevor
Stalingrad
(Viking, Penguin Random House)


2000
David Cairns
Berlioz: Servitude and Greatness 1832-1869
(Allen Lane, Penguin Random House UK)


2001
Michael Burleigh
The Third Reich: A New History
(Macmillan, Pan Macmillan)


2002
Margaret Macmillan
Peacemakers: Six Months That Changed The World
(John Murray Press, Hachette)


2003
T.J. Binyon
Pushkin: A Biography
(HarperCollins)


2004
Anna Funder
Stasiland: Stories from Behind the Berlin Wall
(Granta)


2005
Jonathan Coe
Like a Fiery Elephant: The Story of B.S. Johnson
(Picador, Pan Macmillan)


2006
James Shapiro
1599: A Year in the Life of William Shakespeare
(Faber & Faber)


2007
Rajiv Chandrasekaran
Imperial Life in the Emerald City: Inside Iraq's Green Zone
(Bloomsbury)


2008
Kate Summerscale
The Suspicions of Mr Whicher, Or, The Murder at Road Hill House
(Bloomsbury)


2009
Philip Hoare
Leviathan, or the Whale
(4th Estate, HarperCollins)


2010

Barbara Demick
Nothing to Envy: Real Lives in North Korea
(Granta)


2011
Frank Dikötter
Mao's Great Famine: The History of China's Most Devastating Catastrophe, 1958-1962 
(Bloomsbury)


2012
Wade Davis
Into the Silence: The Great War, Mallory and the Conquest of Everest
(The Bodley Head, Vintage, Penguin Random House UK)


2013
Lucy Hughes-Hallett
The Pike: Gabriele d'Annunzio, Poet, Seducer and Preacher of War
(4th Estate, HarperCollins)


2014
Helen Macdonald
H is for Hawk
(Jonathan Cape, Penguin Random House)


2015
Steve Silberman
NeuroTribes: The Legacy of Autism and How to Think Smarter About People Who Think Differently
(Allen and Unwin)


2016
Philippe Sands
East West Street: on the origins of genocide and crimes against humanity
(Weidenfeld & Nicholson, The Orion Publishing Group)


2017
David France
How to Survive a Plague: The Inside Story of How Citizens and Science Tamed AIDS
(Picador, Pan Macmillan)


2018

Serhii Plokhy
Chernobyl: History of a Tragedy
(Allen Lane, Penguin Random House UK)


2019
Hallie Rubenhold
The Five: The Untold Lives of the Women Killed by Jack the Ripper
(Doubleday, Penguin Random House UK)


2020
Craig Brown
One Two Three Four: The Beatles in Time
(4th Estate, HarperCollins)


2021
Patrick Radden Keefe
Empire of Pain: The Secret History of the Sackler Dynasty
(Doubleday, Penguin Random House UK)


2022
Katherine Rundell
Super Infinite: The Transformations of John Donne
(Faber & Faber)