Katherine Rundell's Super-Infinite: The Transformations of John Donne wins the 2022 Prize
Super-Infinite: The Transformations of John Donne by Katherine Rundell is tonight, Thursday 17 November, named winner of the Baillie Gifford Prize for Non-Fiction 2022. The winner was announced by Chair of Judges, Caroline Sanderson, at a ceremony hosted at the Science Museum and generously supported by The Blavatnik Family Foundation. The announcement was streamed to readers around the world via the Baillie Gifford Prize social media channels.
Super-Infinite: The Transformations of John Donne gives readers a window into the little known myriad lives the poet John Donne lived. Sometime religious outsider and social disaster, sometime celebrity preacher and establishment darling, John Donne was incapable of being just one thing. He was a scholar of law, a sea adventurer, an MP, a priest, the Dean of St Paul's Cathedral – and perhaps the greatest love poet in the history of the English language. He converted from Catholicism to Protestantism, was imprisoned for marrying a highborn girl without her father's consent, struggled to feed a family of ten children and was often ill and in pain. He was a man who suffered from black surges of sadness, yet expressed in his verse electric joy and love. Standout scholar, Katherine Rundell shows us the many sides of his life, his obsessions, his blazing words, and his tempestuous Elizabethan times – unveiling Donne as the most remarkable mind and as a lesson in living.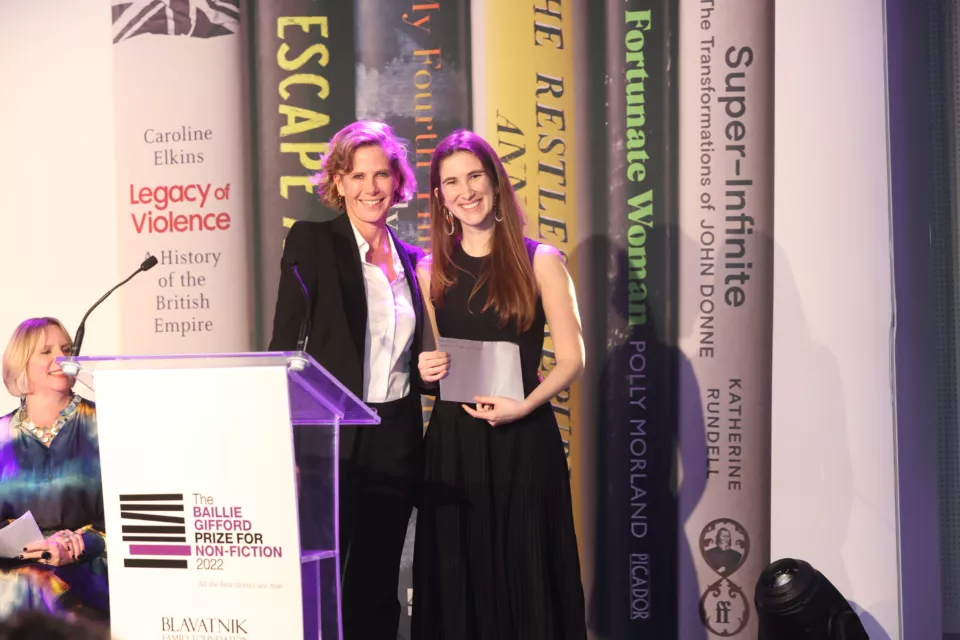 In a recent interview with prize director Toby Mundy for READ SMART, the Baillie Gifford Prize for Non-Fiction's podcast, Rundell credits John Donne as 'the finest writer of desire and sex and love and passion in the English language ever […] a burning original.' To Rundell he offers us 'a kind of galvanic vision of language as a set of possibilities that can be bent to express the unique and unwieldy quality of each human mind.' She sees Super-Infinite: The Transformations of John Donne as a work of advocacy born of great passion, having had a long-term fascination with the poet since she wrote her PhD thesis on him. She has spent ten years studying his works and life and writing this book and is adamant that 'you cannot get bored of him […] because he has in him the capacity to infinitely renew himself'. She wrote three drafts of the book before she was happy with the final work.

Katherine Rundell is a Fellow of All Souls College, Oxford, where she works on Renaissance literature. Her bestselling books for children have been translated into more than thirty languages and have won multiple awards. Rundell is also the author of a book for adults, Why You Should Read Children's Books, Even Though You Are So Old and Wise. She has written for, among others, the London Review of Books, the Times Literary Supplement, the New York Review of Books and the New York Times, largely about books, though sometimes about animals, night climbing and tightrope walking.
Rundell has been praised for Super-Infinite: The Transformations of John Donne across the media. In Financial Times John Phipps comments 'this is a remarkable book: one that flourishes and burgeons in the empty spaces of Donne's life while still letting its subject speak for his many selves.' Lara Feigel in The Guardian agrees, commenting that 'Rundell captures John Donne's unique vision in all its power, eloquence and strangeness […] she is the ideal person to evangelise him for our age.' In her 5 star review in The Telegraph Nicola Shulman heralds Rundell's biography as 'blazingly intelligent and witty.'
chair of judges says

"Super-Infinite", Katherine Rundell's glorious celebration of the life and work of the poet John Donne is our unanimous winner of the 2022 Baillie Gifford Prize for Non-Fiction. Exquisitely rendered, its passion, playfulness and sparkling prose seduced all of us.
The Baillie Gifford Prize aims to recognise and reward the best of non-fiction and is open to authors of any nationality. It covers all non-fiction in the areas of current affairs, history, politics, science, sport, travel, biography, autobiography and the arts. As the winner Rundell will receive £50,000 along with the £1,000 given to each of the shortlisted authors. Last year's winner was Patrick Radden Keefe for Empire of Pain, which became a Sunday Times bestseller.
Super-Infinite: The Transformations of John Donne was chosen by this year's judging panel: writer and Associate Editor of The Bookseller, Caroline Sanderson (chair); writer and science journalist, Laura Spinney; critic and writer for The Observer, Rachel Cooke; BBC journalist and presenter, Clive Myrie; author and New Yorker writer, Samanth Subramanian; and critic and broadcaster, Georgina Godwin. Their selection was made from 362 books published between 1 November 2021 and 31 October 2022.